Carpet Cleaning and Repair in Woodstock
Good Guy Carpet provides value-driven carpet cleaning and repair resources to businesses and private residents in Woodstock. We're the number one rated professional with complete licensing, insurance, and safety training to serve you better.
We are backed by a team of hand-selected technicians with plenty of experience restoring and revitalizing carpets and rugs of all types. From lush high-pile carpets to berber-style carpeting to an elegant and functional low pile finish, we're the trusted pro's who will work within your budget and timeline to make your goals a reality.
When we say we can make odors, stains, blemishes, and pathogens disappear, we mean it. Connect with us by phoning (678) 523-5241 today.
5 Benefits of Hiring a Deep Carpet Cleaner
Dust, allergens, bacteria, viruses, mold, fungus, mildew, and more—these are all things that could be hiding in carpets in your residence or commercial setting.
When this happens, it can be difficult to remove these with conventional household tools like your vacuum. That's where we come in.
Our affordable deep carpet cleaning services allow us to penetrate the surface and pull out particles that contribute to allergies, poor air quality, and odor. Here are the top 5 benefits of hiring a deep carpet cleaner:
We extend the life of your investment
Stains and blemishes on carpets and rugs are a thing of the past
Improved air quality
High traffic areas remain soil-free
You save time and money
Trust us to clean area rugs, bedroom carpets, carpet on stairs, and much more. Connect with our team to request an estimate that will never contain any hidden charges.
Low-Cost Carpet Repair Services
Carpeting is an investment that not only adds value to your home but also increases comfort and matches your unique style. On occasion, things can go wrong, resulting in damage like stains, foul smells, discoloration, and ripped fabric.
If you find yourself in this situation, trust us to provide a full suite of budget-friendly carpet repair services. Our most frequently requested offerings include:
Carpet patching
Wrinkle removal through stretching and re-stretching
Removal of burn marks in the carpet
Odor removal
Repair of damage from pets
Carpet rip and tear repair
Berber carpet repair
Carpet flood damage repair
And more!
Don't re-arrange your room to hide a wine stain. Reach out to us for affordable solutions to even the most complex of carpeting challenges.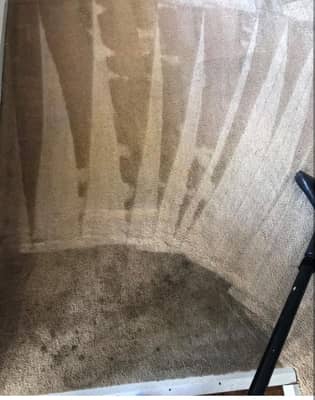 Speedy Pet Damage Carpet Repair
Our beloved pets can sometimes be unpredictable, especially in their younger and elder years. When carpets are involved in pet accidents, odors can linger, even when you scrub with everything you've got. Does this mean you'll have to replace your flooring?
No way! Our experts will come in and swiftly remediate the area, fix any tears, fully remove odors, and transform pet-damaged carpeting so it looks, feels, and smells just like its original state. Phone us to discuss the specifics of your unique situation.
Call the Best Carpet Cleaning and Repairs Expert
Good Guy Carpet is among the top-rated carpet cleaning and repairs experts in Woodstock. As such, we take our commitment to disinfecting and transforming damaged carpets to like-new conditions very seriously.
Our low pricing, transparent estimates, and exceptional attention to detail restore life into all the floor coverings in your home.
Connect with us to request a free estimate by calling (678) 523-5241.